Welcome to Dog Show Central UK.
The aim of this site is to make the process of finding and entering UK dog shows simpler by providing a single point of access to the various providers of schedules, entry forms and online show entry. The site also provides details of various show-related events such as breed seminars.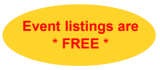 Adding an event listing is FREE. We do however ask that you register a few basic details first. Once registered, events may be listed by completing this form. You may also wish to Promote a show

(for a small fee).
Once registered and logged in, please select the Show List menu option to view the searchable list of events in our database.
If you find any errors or omissions please let us know or Submit Event Details
Registration and Subscriptions
Although the website is useable without the need for a paid subscription, subscribing does provide additional features as outlined in the table below :
Feature
Registered (Free)
Paid Subscription
Show List

Filter events by date range

Filter events by show type

Filter events on event name

Filter events by entry still open

Show Secretary contact details

Email Show Details to a Friend

Weekly show entries closing reminder email (from 1st July 2022)

Show Societies list

Calendar (iCal

*

) export

Show List Page Size

Events Map

Breed Classes

Event Subscription

Do not display advertising
*iCal format files can be imported into a number of calendar applications such as Google Calendar and Microsoft Outlook.